Welcome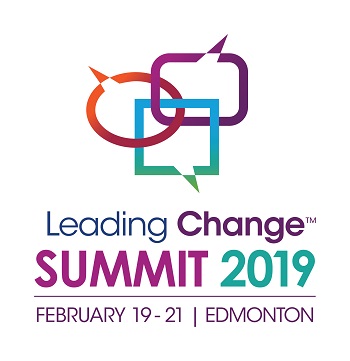 Leading Change Summit 2019:
Bold conversations to end gender-based violence in a changing world.
The conference will take place in Edmonton on February 19 - 21, 2019 at River Cree Resort and Casino.
The volume has been turned up about sexual harassment, violence in the workplace, violence against Indigenous women and girls, the roles of men and boys in ending gendered violence, the genderization and racialization of poverty and the lack of female representation in leadership roles. But the numbers of people impacted by violence all along the spectrum, supported by helplines, shelters and other frontline service providers, are not going down.
Prevention is key to creating lasting change.
The Leading Change Summit will focus on the prevention work being done and tools being generated to support ending gender-based violence and abuse "upstream"; through educational programming, public awareness activities, institutional & policy change, community organizing, social movements and media.
There has never been a better time for brave conversations to generate creative solutions to end gender-based violence. It's also an opportune time to learn from and share tools with professionals and community leaders in adjacent sectors who have important roles to play in preventing gender-based violence and see themselves in the conversation.
Some areas of interest for this conference include:
Social advocacy – creating change on systemic and cultural levels. Eg. Shifting a culture of victim blaming
Indigenous and anti-colonial perspectives and approaches
Addressing prevention in early childhood
Clinical interventions and approaches
Reducing silos in this work. How can segmented sectors collaborate and work together?
The effective and meaningful use of evaluation
Engaging men and boys in GBV prevention
Healthy masculinities
Intersectionality. Addressing power and Oppression
Media – impact and advocacy
Reaching and including diverse voices
Community leadership in prevention
Accountability in a #metoo world
Examples of programming and approaches (emerging and promising practices)
Survivor voices in prevention

The conference committee is looking for a variety of presentations from a variety of sectors delivered in traditional and creative formats directed at these three main audience groupings:
Primary Audience: Gender-Based Violence Sector service providers
In addition to learning from each other about emerging and best practices, we aim to offer a deeper dive into conversations about the prevention of gender based violence.

While exploring the tensions currently brewing in gender-based violence prevention, we will be looking to hear from those who are doing this work or research in this area about their learnings, experiences, obstacles, challenges and successes.
It's our hope that the conference primarily provides opportunities for sector professionals to:
- learn about each other's work, recent research, outcomes and identify synergies;
- engage in "bold conversations" to expand collective learning;
- enhance technical skills of the sector;
- transform external audience and increase uptake of sectors programming;
- continue to learn from survivor experiences; and
- build community.

Share about your work, relating developmental learnings as well as outcomes with other sector professionals: providing opportunities for collaboration and enhancing sector capacity and impact.
Secondary Audience: Professionals and Educators from other sectors
The secondary focus of the main conference is giving professionals and educators from other sectors tools to create change. These might be professionals working in organizations outside of the gender-based violence sector who may have a growing accountability to prevent harassment, promote healthy workplaces or consider a gendered analysis to inform policy. It might by OH&S professionals, wanting tools to address sexual and domestic violence impacts on workplaces – since these are now listed as forms of workplace violence in the legislation.
Share your tools with these audiences and expand your reach and our sector's impact.
Tertiary Audience: Members of the public
We are scheduling evening events around the conference specifically targeted at segments of the public (i.e. men who might come out for a recognizable speaker to learn about the unique opportunity that men have to create change, parents who might come out for a panel discussion and tools about how to address pornography with their children.)
We also welcome suggested content from others that might appeal to a segment of the public on the theme of prevention of gender-based violence.
Submission Deadline Extended to: October 30, 2018